Yes, office relocation can be a little stressful, but it's also a great opportunity to help your employees feel engaged, increase their productivity, and refresh them. If done right, business relocation doesn't have to be a chaotic loss of output and funds; in fact, it can mean a determined, revived, and renewed group of employees, all working towards the same goal – improving the business.
Unmotivated, bored personnel aren't good for business – their lack of productivity and absenteeism will soon become a point of concern. Perhaps, an office move is the only thing that can rejuvenate them and help them come back to life. If you're dealing with a turned-off team, just any moving checklist wouldn't be able to rescue you.
According to our Bay Area movers, here's how you can make your office move more interactive:
Paint a picture of the future
If you want to raise interest in the upcoming office move, why not use some screensaver messages that build on a common theme over time? For example, make countdown clocks part of screensavers to countdown to specific milestones and deadlines regarding the move process.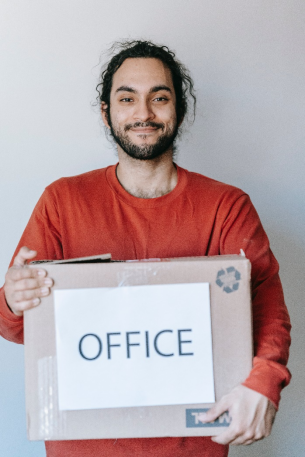 You can also feature maps of the local area, new office spaces, and information related to local facilities like public transport, parks, restaurants, etc.
By making screensavers interactive, you'll allow employees to navigate to additional information—for instance, the websites of local leisure centers, restaurant menus, or the public transport website.
Some other incredible ideas for screensavers include construction site photographs, architect's drawings and visual representation, and plans and layouts of the new building.
If you want to create something very interactive, let an enthusiastic senior manager feature your new location through a video tour. During this tour, they can highlight various important facilities.
Make messages relevant and target communications
Different teams may have access to different facilities at the new location and maybe on varying move schedules. Therefore, ensure that you target communications in a manner that every team receives the specialized information.
Communicate about the office move in advance
Communication about the office relocation should begin months before the actual move. You should give your employees enough room to ask questions and help them understand what to expect.
If there's little to no communication, rumors may take over, and employees may feel as if they're losing their jobs.
So, don't forget to preschedule and plan communications about the relocation for all stages of the move.
Define important messages for the office move
Remember, measuring employee's understanding of the important messages is crucial during the move process. If needed, clarify and recommunicate those messages at various stages.
For instance, main themes may focus on expansion, growth, or a better environment.
Valley Relocation and Storage – a full-service moving company that offers moving services for every industry
Valley Relocation and Storage is one of the best moving companies in Sacramento. Get a free site survey now!
Call us for more information!