Businesses experience several different stages when they are operating for success. Many businesses work for several years and yet face defeat and end up winding up their offices. In fact, according to statistics, almost 20% of small businesses fail in the first year of their inception, making it almost impossible for organizations to survive if they don't pick up on trends, opportunities, and more.
To maximize their chances of success, business owners often take decisions that may not always seem obvious but can help a business run longer and survive the ups and downs of a marketplace. While some businesses may try different stocking and delivery services, others might look for different ways to cut down expenses and expand profit margins.
One way of stabilizing your business if you ever hit a bump on the way is to relocate it to a more profitable environment and location. Commercial relocations are a common practice that requires some level of expertise to carry them out effectively. Businesses may require elaborate office relocation guides.
If you want to learn how moving to a place with higher subsidies, lower rental agreements, and more can be made easier, make sure you keep reading to explore different tips and tricks we've put together for you.
Find an Office Space
Planning an office relocation can be overwhelming, which is why we suggest breaking down the process into different phases. While there is a lot to focus on in the post-planning phase and move execution, you need to first focus on the primary concerns. We understand that you may want to move for several different reasons, but can you really make a move if you don't have a legitimate and premium location for the move? Of course not.
The first thing on your office relocation guide has to be finding a proper location. You need to find a location better than your previous one. If you're bearing the expense of a move and then only getting the same benefits in the new location, you're putting money to waste. Create a detailed pros and cons list to ensure the move is the best option for your business.
Evaluate Your Office Assets
A commercial relocation means you will be moving your employees, assets, equipment, and even the smallest object that belongs to the office. To be able to move it successfully and without incurring any losses, you first need to assess the assets.
Once you've conducted an assessment on the kind of equipment you will need to move, the easier it will be for you when it comes time to hire a commercial moving company for the office relocation.
Packing Needs to Be Accurate
Even though most people spend a great amount of time budgeting, running changes by employees, and worrying about who they will hire for the move – one of the most important things that you need to do is consider the type of packing material you will be using for the move. Most of the assets and equipment of the office will be expensive and will need to be treated with care.
With so many things to consider while packing equipment, you need to make sure that the packaging material is strong and sturdy. This is because loose and poor-quality packaging can be hazardous. Your assets and equipment can get lost or damaged during the move making packing an essential part of the office relocation.
Discuss with Your Employees
Your employees are the backbone of your company; without them, you can barely run a full day's operation. It's essential that news of the move is spread smoothly and with transparency. When you announce the change or the relocation, you may be met with some confusion. Simply explain the plan for the move, the major reason behind it, and help employees feel comfortable with the idea.
So, one of the most important things during an office relocation is focusing on your employees. A great way to make them comfortable and hop on board the plan is to take their opinions. Tell them beforehand and then ask them for ways to carry out the whole thing smoothly.
The more they feel involved with the process, the easier it will be to continue with the move without any reluctance from the employees.
Update Your Address
Now for the next item on your list, you need to make sure that you generate a local notification addressing that you're moving and you will be available in the new office after certain dates. The first thing in the information phase is updating your address. Make sure that you update your address on business cards, flyers, and emails.
Since customers often check out websites or social media handles for complete information, they can immediately see that you have updated your address.
Inform Suppliers & Customers
Updating your address is only part of the information phase. While it is okay for general use to issue an announcement, you need to make it more personalized for suppliers, clients, and esteemed customers.
There are several ways you can do that. You can generate an email where you inform them about the move, tell them the new location, and then promise continued services. Moreover, you can even hold a personalized meeting with your investors, suppliers, and clients to ensure that a changed location wouldn't mean a change in the quality of services you provide.
Assess IT Equipment
One of the most difficult things to manage is relocating your IT equipment from one office to another. IT equipment is often difficult to pack and even more difficult to use from one location to another. The move becomes extremely complex when you've got equipment that can get damaged along the way. For example, for data center relocations, you will require a different type of transportation service as opposed to a simple relocation.
So, make sure that you are spending a considerable amount of time assessing your IT equipment before the move.
Back-Up Your Data
Companies rely heavily on their online data and their important files. While it is difficult to ensure that the files will remain safe during travel, you can take some precautionary measures beforehand to ensure that the data isn't corrupted and lost during the move. You can set up a cloud account and save your data in a virtual space, or you could transfer it all to a hard drive and keep it with someone trustworthy.
Evaluate Shipment Size
Once you've evaluated your assets and equipment, you are ready to hire professional movers that can help you smoothly move from one place to another. But you can't do that seamlessly without clearly knowing the shipment size.
Your shipment size will help you hire the kind of transportation you need to move your assets and equipment to the new office.
Do You Require Warehouse Services?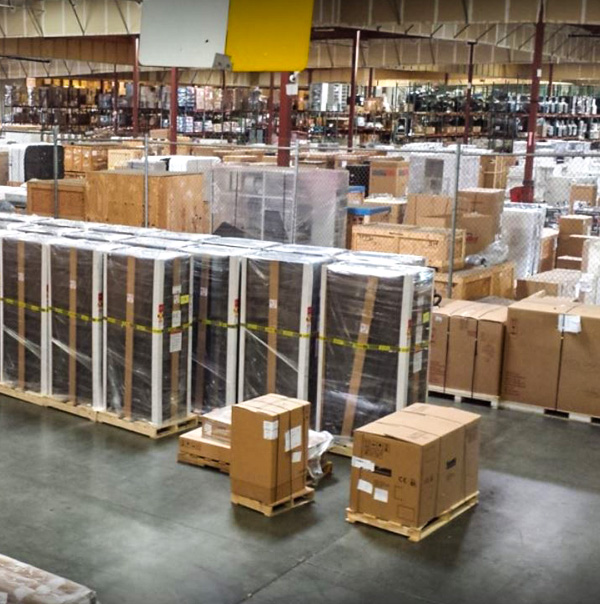 The next big question in your commercial relocation would be whether or not you require warehouse and storage services to keep extra equipment and machinery or just to receive orders that have already been dispatched. A storage facility can easily remove the excess load from your relocation experience. You can store things you don't need immediately in the new location and access it whenever the need arises.
With Valley Relocation, you get immediate and easy access to your warehouse storage without any issues or extensive paperwork.
Hire Facility Services Before the Move
Emptying out a location can be overwhelming, especially when there is so much that you need to clean out before you do. If you leave your prior location spotless, you can easily earn your security deposit back from your landlord. You can use that money in the new location or pay off the movers.
However, if you have dry patches, broken walls, or floorboards, there is a chance you would be paying for the damages from your security deposit. So, to make sure that you get a hold of your security deposit, you need to ensure that you are hiring facility services that can help you clear out locations, floors, and other parts of an office before you move out.
Simplify Your Move with These Tips
Planning and organizing a commercial move might be easy, but executing it on the final day is the real concern. Many business owners are so overwhelmed that they don't remember half the steps of carrying out the complete move. To help ease the anxiety, we've put together some useful and easy tips that you can follow to simplify your transition.
Let's explore!
Audit Your Moving Needs
The biggest and most useful tip anyone can give to a company owner contemplating moving from one location to another is to audit your moving needs. The clearer you are about how you plan on moving, the easier the whole process becomes.
The best way to carry out an audit is by sitting with all the departments separately and talking to them about their moving needs. Once they give you a proper estimation, you can contact a professional to move the office for you.
Keep an Eye on Your Budget
Budget restrictions can completely transform the moving game for several business owners. If a business owner has a sizable budget, they may be able to afford specialized logistics, consult with professionals, and experience an easy and worry-free moving experience. However, if the budget is limited, there are chances that the company might need to either delay its move or completely cancel it altogether.
Keep your finance department in the loop and ensure you are not extending your budgetary confinements for a simple and easy move.
Create a Moving Day Team
Moving day is often hectic, chaotic, and extremely confusing for business owners. They tend to get overwhelmed by the different types of things they need to overlook in order to carry out a complete and smooth transition.
So, to reduce the havoc and make things a little more streamlined, make a moving day team and appoint a manager. The team will be responsible for carrying out pre-set instructions during the day and ensuring that things are being carefully moved to the new location without any damage.
Hire Professional Movers
Now that you've got most of the moving tips down and locked, the most important thing you need to focus on is hiring professional movers. Professional movers come with a team of people who are skilled and equipped to carry out large-scale moves. They ensure equipment safety and security during the move.
They often have skilled IT specialists that can help disassemble, reassemble, and then move your equipment.
Valley Relocation is the Answer to Your Moving Worries!
Moving an office from one location to another isn't always easy – there are so many things that a business needs to evaluate and assess before it can wave the green flag. In this blog, we've gone over the various things that you need to do in order to get the easiest and smoothest transition from one place to another.
Now that you know how to simplify your commercial move, it's time you find a companion that can help you every step of the way. Hiring our team at Valley Relocation is your safest bet. We are a competitive and successful moving company that has more than three decades of experience under our belt.
Not only do we offer streamlined and seamless moving services, but we offer specialized transportation, warehouse services, facility services, and a lot more to make your relocation experience a wholesome one.
So, what are you waiting for? All you need to do is pick up your phone, dial our number, and get in touch with our team to let them know about how we can help you out.